< Back to guides
Need an annual service? We can help.
We all appreciate the comfort of having long warranties. Not only do they give us the peace of mind that the product we've spent a lot of money on has a reliable lifespan. But also that we're able to get them fixed - without paying any extra fees.
When it comes to your heating system, warranties couldn't be more vital. Especially as we approach winter. Your boiler keeps you comfortable throughout the cold days. In order to keep your warranty valid, you must get a service completed every year. If you'd like a service with BOXT, then all you have to do is sign up to either one of home care plans, BOXT service plan or Protect+ plan.

BOXT service plan.
In the past, it was always a bit of a pain remembering to get your annual service booked and could quite easily slip your mind. This is especially important as undertaking an annual service ensures your boiler warranty is kept valid.
That's why when you choose our BOXT service plan, you'll no longer need to worry about finding someone to service your boiler for you and paying the full cost all at once. Instead, our plan spreads the cost of your annual service over a 12 month contract. For just £7.99 a month, you receive your annual service as well as a Gas Safe certificate.
As soon as you've signed up, you don't need to do anything else. We contact you around one month before the anniversary of your installation to provide you with some dates that are best for you. It's as easy as that.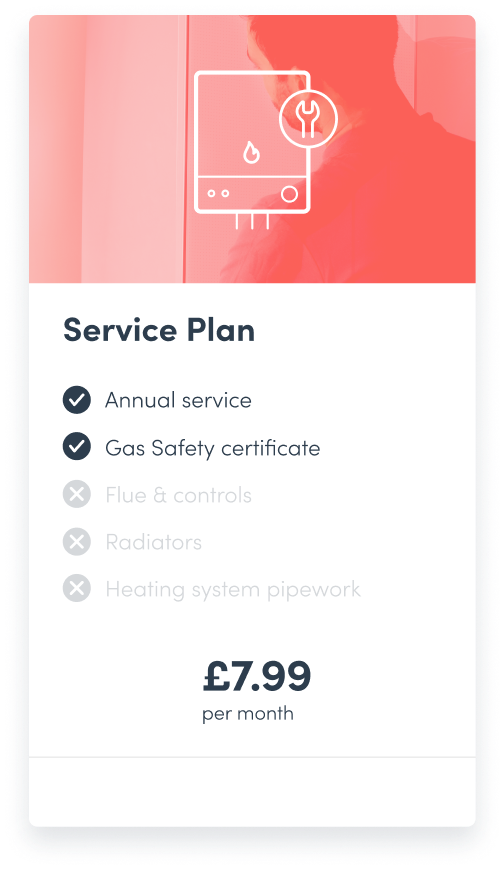 Protect+ plan.
What makes this plan so popular with BOXT customers is the extra level of protection it provides them with. Whilst your warranty covers any hot water or heating mishaps, Protect+ is there to cover any problems with your wider heating system. This includes repairs to, your flue, radiators, pipework, boiler controls, gas supply pipe. You can relax knowing your entire heating system is protected.
At £17.99 a month, you're covered for any boiler scenario. If you do have any problems, just let us know and we'll be able to send an engineer out for absolutely no charge. Again, as soon as you've signed up - we contact you around one month before your installation anniversary and present you with some dates.


My annual service was due a couple weeks ago, will my warranty remain valid?
Yes, your warranty will remain valid. If you have missed your annual service due date, don't worry. Manufacturers such as Worcester Bosch are being lenient because of the pandemic. But you should try and get your service completed as soon as possible.

What happens during a service?
The service itself only lasts no more than half an hour. Although it doesn't take very long, it's an essential part of keeping the boiler running properly. Similarly to an MOT, it's a small price to pay for a healthy boiler. The engineer will visually inspect the gas appliance and measure your boiler's pressure and gas flow. A straightforward procedure that could save you a lot of money and hassle.

Am I eligible to sign up?
Our service plans are exclusive to BOXT customers at the moment. If you'd like to sign up, just click on this link, https://www.boxt.co.uk/home-cover and then click 'Already a BOXT customer'. You'll then be able to sign up yourself, just make sure you have your order reference number at hand.
Alternatively, if you'd prefer we can get you covered over the phone - just give us a call on 0800 193 7777.



< Back to guides